Sat 24 Aug 2019 11:20:10 PM CDT: Please note that this web site may be unavailable between midnight and 05:00 AM Central time. If you are in the process of entering information, be aware that your session could be interrupted at any time. We apologize for any inconvenience this may cause.
15th Annual Baystate Home Health Wine & Beer Tasting
Date:
Time:
6:00 PM - 9:00 PM
Location:
Tekoa Country Club
Westfield, MA 01085
United States
Join us for the 15th Annual Baystate Home Health Wine & Beer Tasting!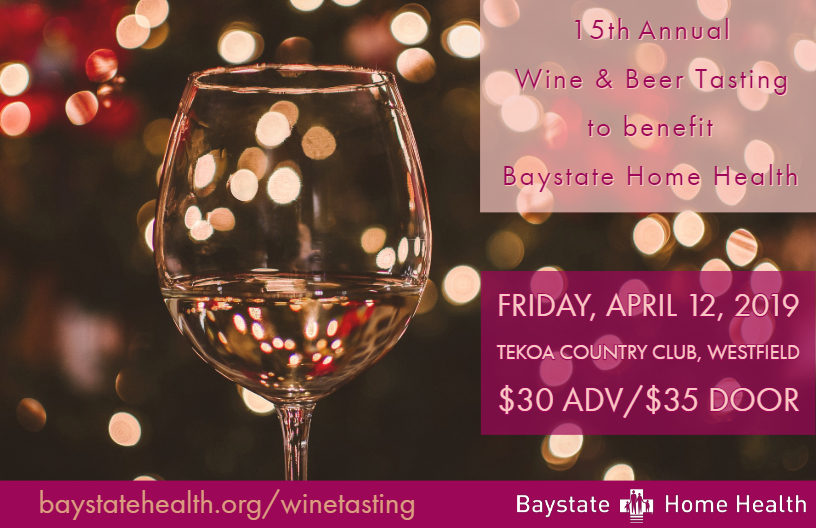 Raise your glass and spirits with Baystate Home Health on Friday, April 12, 2019 at the Tekoa Country Club in Westfield, MA. This enjoyable evening supports home care and hospice services provided by Baystate Home Health.
Thanks to the generosity of the Westfield Spirit Shop and Commercial Distributing, friends can sample delicious wines from throughout the world, fantastic seasonal beers, all while enjoying delightful friendship and fellowship. Guests will also enjoy interesting and fun selections from the Hartford Flavor Company.
Proceeds from the 15th Annual Baystate Home Health Wine & Beer Tasting benefit Baystate Home Health's home care and hospice programs and enable the staff to continue to provide exceptional care to those in our community.
Your support of this event is critical to its success.
COMPASSIONATE AND PATIENT FOCUSED
Baystate Home Health provides high quality care, expressly tailored to meet each patients' needs. Our home health team works together to ensure a safe and swift recovery from illness, accident or surgery in the comfort of home.
Baystate Hospice offers medical expertise through our extensive network of caregivers to support patients facing a serious or life limiting illness. Each patient and family is cared for by our certified and experienced nurses, therapists, social workers, hospice aides, spiritual and bereavement counselors, and volunteers. This care team works together, with both the patient and family, to bring understanding, comfort, dignity and a sense of peace, as each patient journeys toward the final stage of life.
For more information, please email Jennifer Gruszka, or call 413.794.6414.
Click below to purchase tickets, sponsorships, or make a donation.
All attendees must be age 21 or older on April 12, 2019.